2020 Playlist — The Imbeciles, Kid Cudi, Masaaki Yoshida, Evischen, VOIDCEREMONY, Eddy Current Suppression Ring, Lotic, ZOMBI
I managed to fall behind a little bit on my
2020 Playlist
selections.
Hope you're all doing well.

_________________________________________
The Imbeciles: "One Hand Tommy"
_________________________________________
Kid Cudi
: "Leader of the Delinquents"
(via Republic Records / YouTube)
Single purchase:
_________________________________________
Masaaki Yoshida
: "
There Will Come Soft Rains
"
(via Phantom Limb / YouTube)
Album Preorder:


Via Phantom Limb:
Phantom Limb's imprint Geist im Kino launches new series
Imaginal Soundtracking Vol. 1: There Will Come Soft Rains, out June 19
Musicians invited to re-score forgotten works of cinema; Vol.1 features Lakker, Masaaki Yoshida (Archorsong), Rully Shabara (Senyawa) and Dylan Henner
Phantom Limb's soundtrack imprint Geist im Kino continues with the launch of new series Imaginal Soundtracking, in which contemporary musicians are invited to re-score existing film pieces.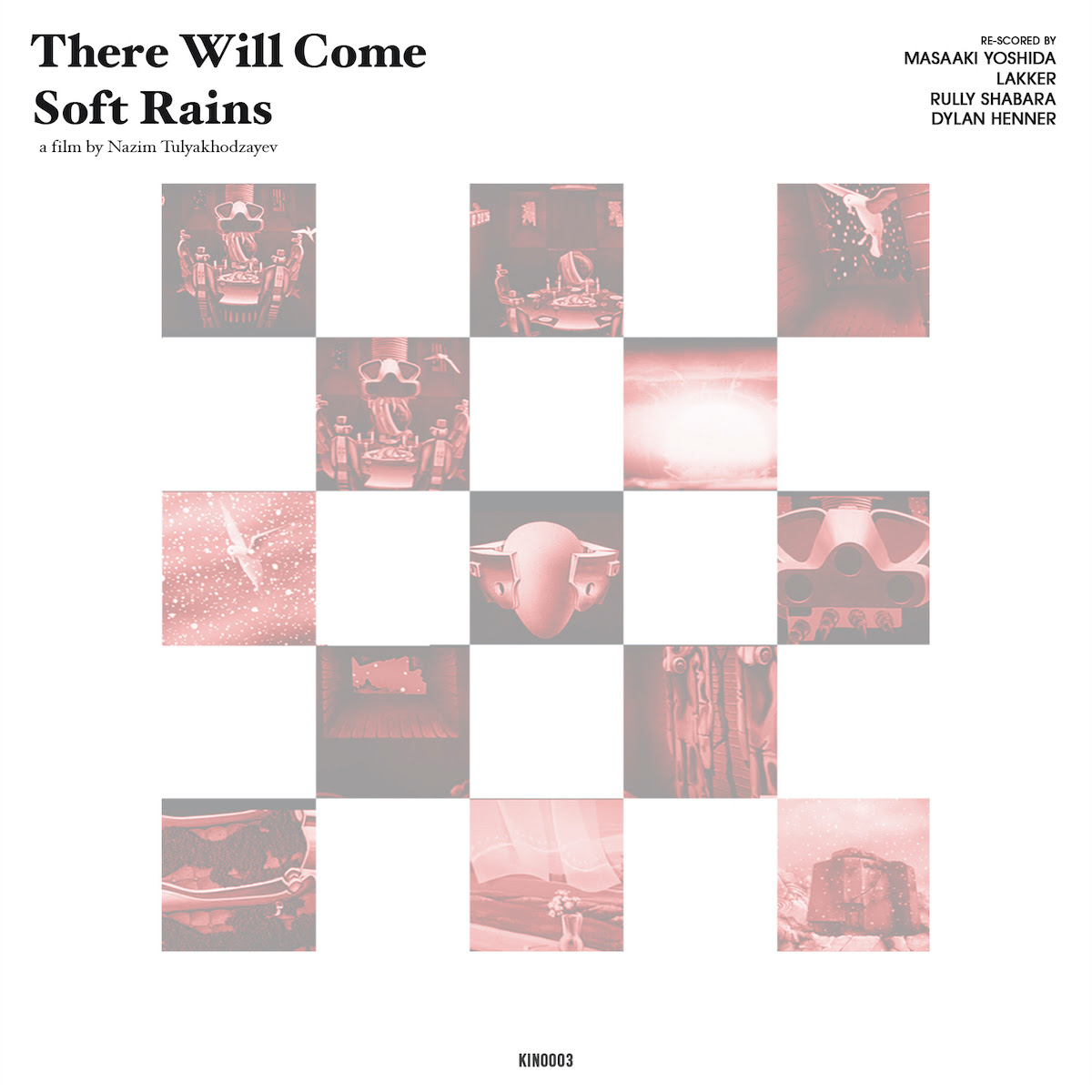 Designed to reframe overlooked or forgotten works of cinema and to offer a new artistic challenge to the contributing musicians, Imaginal Soundtracking acts as a dialogue between the creative minds at play. The first release in the series, out digitally on June 19, sees a quartet of highly inventive, wildly varying takes on award-winning animation
There Will Come Soft Rains
, created in 1984 by Uzbek filmmaker Nazim Tulyakhodzayev. The film is based on a short story of the same name by Ray Bradbury, itself a reference to a 1918 work by US poet Sara Teasdale, which foretells the danger of mankind's extinction by war, predating many such fears by some decades. Characteristic of Soviet filmmaking of the time, Tulyakhodzayev's adaptation is abstracted by layers of allegory and interpretive meaning, rendering it bizarre, sometimes lysergic, but nonetheless arrestingly powerful and hauntingly relevant today in its story...
Watch the film and listen to acclaimed London based Japanese producer Masaaki Yoshida's (better known as Anchorsong) unique interpretation here and below. His lamenting, piano-led score highlights the futility and sadness of the story. A single, gentle, repeated pulse holds the tempo while soft chords respond to the film's increasingly bleak imagery. He retains the robot's voice from the original film, building his own composition around it.
Along with Yoshida, the other contributors Lakker, Rully Shabara and Dylan Henner all began with the same source material, their respective new soundtracks are strikingly different from each other.

Renowned electronic duo Lakker (mainstays of seminal electronic label R&S) offer a dark, synthesis-driven take, formed of complex sound design and sci-fi sonics. Their narrative progression builds in strain and tension, rising in intensity until the climax of the film, at which point the focus shifts to a sorrowful, robotic-voiced rendition of the 1918 poem
There Will Come Soft Rains
by Sara Teasdale, which Bradbury references for his story.

The talented Rully Shabara is best known as vocalist for Indonesian experimental duo Senyawa. His soundtrack is made entirely from extended vocal technique, beginning with a droning, hypnotic soundbed that allows the film interpretative breathing space, in keeping with the mechanical ecosystem the story predicts. As the film develops, more recognisable voicings start to appear, and the humanism of the story rises to the surface.

Finally, mysterious ambient newcomer Dylan Henner contributes a dark, electronic soundworld in which the film's only "character" - the robot - is re-voiced in a distorted, demonic language that frames the dynamic rising and falling of his composition. Though floating and consonant in places, the inherent dread fundamental to the film remains a doomy undercurrent throughout.
Track listing:
1. Masaaki Yoshida: There Will Come Soft Rains
2. Lakker: There Will Come Soft Rains
3. Rully Shabara: There Will Come Soft Rains
4. Dylan Henner: There Will Come Soft Rains

Masaaki Yoshida on facebook / twitter
Lakker on facebook / twitter
Rully Shabara on facebook / twitter
Dylan Henner on facebook / twitter


_________________________________________
Evischen: "Under the Stall Door"
(via Clandestine Label Services / American Dreams Records / YouTube)
Album Preorder
https://evicshen.bandcamp.com/album/hair-birth
Via Clandestine Label Services:
New-England Based Sound Artist Evicshen's New Album Doubles as a Readymade Art Object that Functions as a Speaker
The New LP Hair Birth, out July 17th on American Dreams Records, comes in a unique handmade record jacket that is a fully functioning speaker, allowing one to listen to the album through its own cover art.

Genre: Noise, Industrial, Electroacoustic, Avantgarde, Analog Synthesizer
RIYL: Aaron Dilloway, Merzbow, Nurse With Wound
Victoria Shen (AKA Evicshen) is an experimental sound artist who has worked with electronics for over a decade. Her practice blurs the lines between sound, visual, and tactile art. Shen originally got her feet wet working for Jessica Rylan (a student and former employee of Don Buchla) at Flower Electronics, creating patchable analog synthesizers. She cultivated a fluency with electronics, which in conjunction with her expansive interests in the arts and sciences, challenges a conventional means to "make music."

Though synthesizers are the backbone of Shen's music, while performing live, she plays self-made synths, invented instruments, and even acoustic objects like a bull whip. Shen is a markedly mobile performer that muddles of the boundaries between performer and audience, stage and floor. Her sets tend to be site-specific, in direct response to the physical and acoustic qualities of the space in which she performs. Her live show vacillates between moments of restraint and swells of frenetic and confrontational movement. A tightrope walk between control and chance, the whiff of danger is never far during Shen's performances. Her sound is dynamic with a sensitivity to texture and structure throughout.

This sensitivity is maintained in her debut LP
Hair Birth
.
Hair Birth
is the result of several weekends locked in a studio creating cacophonous, wondrous synth noise with Harvard's Buchla 100 and Serge modular systems. She tracked hours of stems before cloistering herself in a painstaking editing process. Songs like "Under The Stall Door" sound like a cybernetic rollercoaster with rumbles and shrieks that hurtle the listener through virtual space. Others, like "Bolete," are tense, dense mood pieces that move from the queasy to the tranquil to the surreal.
Hair Birth
is not limited to audio though – Shen wants the full expression of the album to be experienced visually, haptically, and to be embodied as a living breathing artifact. In a total integration of sound and image, Shen has created an album that you listen to, through its own art.

Here's what she had to say about the limited special edition record with a jacket that functions as a loud speaker:
"The art is the speaker and the speaker is the art. The width of a continuous copper coil is modulated as it radiates across the surface of the jacket, rendering the image of my face mid-performance from a show last summer in Kumamoto, Japan. The coil, when connected to an audio amplifier and placed in front of a magnet, turns the material of the cover into an active speaker membrane. The whole thing dances and vibrates in your hands as you listen to the album, as it pushes the particles in the air back and forth to create invisible waves that we perceive to be sound."
Shen's curiosity and creativity knows no bounds, and Hair Birth is an unbridled emblem of her inspired, joyous mind.
Evicshen - Hair Birth
American Dreams Records - July 17th, 2020
1. Current Affair
2. Under The Stall Door
3. Classical Mechanics
4. Funhouse Mirror Stage
5. Bolete
6. Lissajous
7. Fever Pitch
Recorded, arranged, and mixed by Victoria Shen
Mastered by Mike Young
Evicshen.com
_________________________________________
VOIDCERMONY:
"Desiccated Whispers"
(via Earsplit PR /
20 Buck Spin
/ YouTube)

Album Preorder
Via Earsplit PR:
VOIDCEREMONY: California Death Metal Act To Release Entropic Reflections Continuum: Dimensional Unravel Via 20 Buck Spin In June; "Desiccated Whispers" Now Streaming
20 Buck Spin proudly welcomes Ramona, California-based death metal outfit VOIDCEREMONY to the label.

Circulating in the pits of the deepest underground for nearly seven years, VOIDCEREMONY presents their long-awaited first full-length,
Entropic Reflections Continuum: Dimensional Unravel
. While earlier releases hinted at the band's unique potential and frenzied imagination, on their proper debut album, it takes its most actualized form thus far, looking ahead to darker visions of indefinable cosmic obscurity.

Furiously fragmented death metal rips though the reflective fabric of reality sinking deep memory hooks into the innermost cerebral chasms. Out of the technically warped twists and unpredictable turns emerge progressively skyward guitar leads and mercilessly precise percussion work. Concurrently, the fretless bass mastery on display permeates the entire framework with an otherworldly time bending defiance.

VOIDCEREMONY reaches well beyond the confines of the typical to create a methodically accelerating chaos, an orchestral maelstrom of esoteric profundity. And while nowadays "technical death metal" has become synonymous with banal machine-like acrobatics for its own sake, VOIDCEREMONY instead maintains a principled continuum of arcane alchemy and increasing internal entropy.On Entropic Reflections Continuum: Dimensional Unravel, VOIDCEREMONY features members of Ascended Dead, and is joined by Damon Good (Mournful Congregation, Stargazer) on fretless bass. The album was re-amped, mixed, and mastered by Damian Herring at Subterranean Watchtower Studios (Horrendous, Blood Incantation, Ghastly), and the cover art was created by Ivory Crux.

Stream the lead single from VOIDCEREMONY's Entropic Reflections Continuum: Dimensional Unravel, "Desiccated Whispers," at YouTube HERE and Bandcamp HERE.

Entropic Reflections Continuum: Dimensional Unravel will see release via 20 Buck Spin on LP, CD, cassette, and digital formats on June 26th.
Entropic Reflections Continuum: Dimensional Unravel
Track Listing:
1. Desiccated Whispers
2. Sacrosanct Delusions
3. Empty, Grand Majesty (Cyclical Descent Of Causality)
4. Binded To Unusual Existence
5. Abandoned Reality
6. Solemn Reflections Of The Void
VOIDCEREMONY:
_________________________________________
Eddy Current Suppression Ring: "Vicariously Living"
Album Preorder
Via Tell All Your Friends PR:
Eddy Current Suppression Ring have shared a new animated video for single, "Vicariously Living." The track is off of their latest LP,
All In Good Time
, released in December of last year. The video was premiered exclusively with BrooklynVegan.These lyrics are about staying at home on a Saturday night and living life through a movie or a book, a magazine, or scrolling through images on the computer or phone, to the point where it consumes you, and you feel like you're living life through these images, often images of images, blurry snippets of information, recycled jargon, social events, false idols, scenes and stories that begin to lose all meaning. Always leaving you craving more, something else. Constantly unwrapping scrappy information, like a never ending game of pass the parcel.

LINKS
_________________________________________
Lotic: "Burn A Print"
(via Stereo Sanctity / Houndstooth / YouTube)
Via Stereo Sanctity:
In succession to her debut album 'Power', released in 2018 on Tri-Angle, Lotic's new single "Burn a Print" is the accession of the previous album's message: Once one has transformed fear and vulnerability into the consolidation of individual power, the natural next step for any reign is to establish a legacy, or in Lotic's own words, "to burn your print into this Earth because when you go, you need to remind the future bitches that you was here."
Lotic, known as J'Kerian Morgan, has been fortifying her forceful sound and dominating the Berlin electronic music scene for nearly a decade. Born and raised in Houston, Texas, Lotic played alto saxophone in her high school marching band and in competitions with the University Interscholastic League before an education at the University of Texas at Austin, where she studied film and electronic music and hosted DJ sets for the college radio station.
In 2011, shortly before relocating to Germany, she released her debut EP 'More Than Friends', on Ben Aqua's dance music label #FEELINGS. Following her move to Berlin in 2012, she released a series of well-received mixtapes, including 'Fallout' (2013), 'Damsel in Distress' (2014), 'Agitations' (2015) and 'Heterocetera' (2015).
In addition to producing music for the dance floor, Lotic also helped to create one: She co-founded the Janus Collective with fellow American expatriate promoters and producers, creating a monthly party that began in Berlin-Kreuzberg's Chesters and quickly ascended to hosting Janus rosters at Berghain. Lotic established herself within Berlin's nightlife for her capricious DJ sets, her sonic offering ranging from experimental creations rooted in her music theory training to remixed Top 40 that attracted avant-garde singer, songwriter, and DJ, Björk. Following a collaboration on two remixes for Björk's 'Vulnicura' album's track "NotGet" and an invitation to open for her 2015 Berlin concert, Björk stated, "Lotic is one of the fiercest performer DJs I have ever heard" (Mixmag, 2018).
Even in the midst of success and recognition, Lotic (meaning, "to inhabit rapidly moving water") treaded against the currents of sudden homelessness, the end of a long-time love partnership, and a personal transformation. Through an empowering hiatus focused on rebuilding, she found her voice in her debut album 'Power' (2018), which introduced her as a singer and songwriter for the first time.
'Power' was praised for its polished production style in the tradition of Lotic's past releases and rejuvenated by her narrative and reflections on race, sexuality, and gender. The release of 'Power' inaugurated 'Endless Power', a live A/V show in collaboration with lighting designer Emmanuel Biard, featured at Berlin's CTM Festival and Barcelona's Sónar in 2018. The same year, Lotic collaborated with fellow Houston-born dancer and choreographer Roderick George /k Noname Artist on 'Fleshless Beast', a music and dance performance in co-production with Berlin's Sophiensaele and funded by the Berlin Senate Department of Culture and Europe. Lotic created the original score and performed in Fleshless Beast, a performance contemplating and deconstructing race relations, being an immigrant, and challenging the status quo.
In 2019, Lotic collaborated in the performance piece 'Las Casas Invisibles' with the KDV Dance Ensemble hosted by Berlin's Funkhaus, once again lending her original music to the performance score. The newly released track is a declaration in continuation of Lotic's mission to "live life to the fullest by not giving a fuck about what anybody thinks."
Much like feminine rulers memorialized in history, Lotic's sound is the symbiosis of force and softness; the beat behind the drill of a parade honoring a strong and unpredictable Queen imprinting her mark into the ground to the beat of her own drum.
Links:
_________________________________________
ZOMBI: "Earthscraper"
(via Relapse Records / YouTube)
Via Relapse Records:
ZOMBI Share "Earthscraper" Music Video
New Full-Length 2020 is out July 17th
Instrumental duo ZOMBI share the official "Earthscraper" music video from the upcoming album 2020, coming out July 17th. Watch "Earthscraper," directed by
Tony Balko
, on YouTube
HERE
.
Regarding the track, ZOMBI drummer A.E. Paterra comments:
"A heavy song, and an even heavier video by director Tony Balko. We've been excited to share this - it's heavy in a new way for us and we hope you enjoy it."
- AEP
In addition, ZOMBI will be holding a raffle for a test pressing of 2020, with all proceeds going to the Bukit Bail Fund of Pittsburgh and Black Visions Collective. Details can be found on ZOMBI's Instagram and Facebook accounts.
2020
is due out July 17th on CD/LP/Digital. Physical packages are available for pre-order via Relapse.com HERE. Digital Downloads / Streaming Services are available HERE.

ZOMBI's first new album in 5 years,
2020
showcases the songwriting prowess that has pushed the duo of Steve Moore (synthesizers, guitars, bass) and A.E. Paterra (drums) to evolve throughout their storied, 20 year career.

Listen to 2020's previously released, opening song "Breakthrough & Conquer" on YouTube HERE. ZOMBI has strived to build upon and expand their sound with every release. Now more than ever, the band stays true to their ethos. From the pulse-pounding, dramatic opener "Breakthrough & Conquer", to the melodic bass whirls found in "XYZT", 2020 proves to be ZOMBI's most riff-intensive album. At first a soundtrack of driving musical euphoria, 2020 takes a sharp turn into uncharted waters - "Earthscraper" is reminiscent of a space where sounds of sludge and doomlike-riff crushers dominate the soundscapes. Synthwave and neon crescendos are furloughed in favor of Blue Oyster Cult inspired progressive epics. A truly therapeutic loop of immersive instrumental rock, 2020 might just be ZOMBI's most ambitious album yet.

OFFICIAL LINKS:
ZOMBI on Facebook
ZOMBI on Instagram
ZOMBI on Twitter
ZOMBI on Bandcamp
Sincerely,
Letters From A Tapehead