To Whom It May Interest: Dos, Velvet Monkeys, Locrian, U.S. Christmas (USX), "Echomancy"
From the Hoot Page.
This photo was taken in 2002.
For those of you that may be getting tired of seeing the name
Mike Watt
appear on this site in regards to one thing (
Floored By Four
) or another (
Hyphenated-Man
), here's something else to annoy you. Watt and ex-
Black Flag
bassist,
Kira Roessler
, have been performing together for a number of years as
Dos
. Their forth album,
Dos y Dos
, will be out on Watt's
Clenchedwrench
label on 6.7.11. In the meantime, more details regarding Dos can be found at Watt's exhaustively detailed
Hoot Page
.
_________________________________________________________
Velvet Monkeys
1982 release,
Everything Is Right
, will be reissued via producer
Don Fleming
's
Instant Mayhem
label. The album will be out 6.7.11.
The below information is via Howlin' Wuelf Media:


This reissue of the Velvet Monkeys debut 1982 release,
Everything is Right
, features Don Fleming (later of Gumball and producer of Sonic Youth, Teenage Fanclub, Screaming Trees, Hole, Alice Cooper, Joan Jett, Andrew W.K.) on vocals and guitar, Elaine Barnes on vocals and keyboards, Stephen Soles on bass and Jay Spiegel (Half Japanese, Gumball, Dinosaur Jr., Lookies) on drums. Coming out June 7 on Instant Mayhem distributed by IODA.

Skip Groff, producer of many notable Washington, D.C. bands, first recorded the Velvet Monkeys in 1981 at Don Zientara's Inner Ear Studio. "Drive In" and "Shadow Box," were featured on Groff's
Connected
LP, a sampler of D.C bands released in 1981 on Limp Records. The band followed with the 10 song cassette-only
Everything is Right
, released on their own Monkey Business label in July 1982. Three additional live songs from a show at the Chancery in D.C. on New Year's Eve 1981 have been added to the original release for this reissue.

The Velvet Monkeys were formed in Washington, D.C. in 1981 and found many like-minded bands in the mushrooming local scene including Half Japanese (with whom Fleming, Barnes and Spiegel also played), Tiny Desk Unit, The Nurses, and Chalk Circle. The band was originally a three-piece combo that included prominent use of a Dr. Rhythm drum machine. By late 1981, drummer Jay Spiegel, a.k.a. the Rummager, joined the line-up and the band began their move from minimalist art-rock toward an increasingly heavier sound.

The digital reissue of
Everything is Right
is the first release on Don Fleming's Instant Mayhem label since partnering with digital distributor IODA. The audio was restored from the original analog tapes and remastered by Fleming. Instant Mayhem will release reissues of Fleming's older catalog (w/Velvet Monkeys and Gumball) as well as new projects. The next two releases for the label are a new solo EP titled
Don Fleming 4
, and a new album by To Live and Shave in L.A. called
The Cortège
.
_________________________________________________________
Favorite darkness experimentalists,
Locrian
, have released a split 7" with
Horseback
. Their song, "In The Absence Of Light," which would suit well enough as a descriptor of the band's output, was recorded before their last album,
The Crystal World
, a review of which can be found
here
.
Locrian and Horseback have also apparently teamed up for an upcoming EP.
Via
Land Of Decay
/Press release:
Artist: Locrian/Horseback
Edition: 300 Copies:
Format: 7" Record
Label: Turgid Animal Records

Track Titles:


Side A: Horseback - Oblivion Eaters

Side B: Locrian - In the Absence of Light

Turgid Animal is proud to present two of the best of the new school of American dark experimental acts on one record. For those not in the know, Horseback's main man Jenks Miller has had a few other heavy hitting titles already released on Turgid Animal over the years and has recently been signed to the mighty Relapse Records. His unique sound encompasses elements of drone, noise, black metal and home grown Americana folk, the latter of which becomes very apparent on his side of this split single. Locrian on the reverse demonstrate the cold, calculating and heavy side of experimental music in a way few can compete with. Using the power of focused composition, they forge an expert slice of their vision; a world where bleak & beautiful drone is king. 300 copies. Black Vinyl.
_________________________________________________________
U.S. Christmas
(or,
USX
as they seem to be going by these days) are putting out a single track full-length LP dubbed,
The Valley Path
. I got to check it out yesterday and it sounds great. I plan on reviewing it in the near future. In the meantime, below is some information regarding the album and some upcoming live dates.
All information is courtesy of Earsplit PR: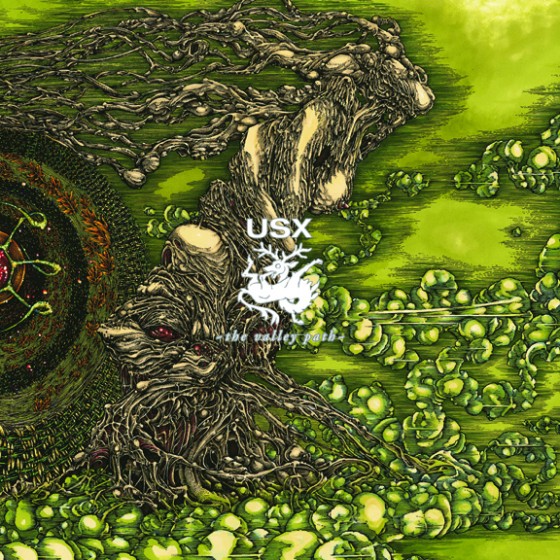 USX: Appalachian Masters Of Dark Psychedelia To Release The Valley Path Via Neurot Recordings This May Neurot Recordings is proud to unleash the latest full-length from Appalachian masters of dark psychedelia, USX. Titled

The Valley Path

, the epic follow-up to 2010's critically-lauded

Run Thick In The Night

consists of one, near 40-minute mammoth track of esoteric beauty set for release in North America on May 31, 2011.
Commented guitarist/vocalist/wordsmith Nate Hall of the prodigious offering:

"When the idea for

The Valley Path

was imagined, all involved agreed it was true and went forward. Forward in thought, forward in vision, forward in action. We achieved what we wanted to achieve, and whatever is said about

The Valley Path

, it will stand. USX has played more gigs than I can remember, from Marion to Prague, Detroit, Austria, Memphis and Switzerland. Dirt floors and Masonic temples, churches and ghettos, wilderness and cities. To dozens and hundreds – occasionally thousands. We have recorded our songs, projected our collective visions. We have realized all that we have imagined. At this point, we have nothing to prove. We've been under the gun many times, and whatever anyone might think about us, we've never flinched. Never compromised. When things are good – and they usually are, being in this band is a dream. But we can't entirely escape reality. Fuse boxes blow, power fails, instruments break, people leave. We vomit in parking lots and go play inside. We sleep sitting up and wake up sore. Or we sleep in places most people would not willfully enter. We are hungry and miss home. We go on, and we are thankful because we have songs. And when we write our songs become a part of us, our center. Our home. A song does not have to be a part of a collection. It is more important for music to take the path it chooses, and an artist must be willing to let this happen.

The Valley Path

is one song. And a song is a thing that changes."



The record was engineered by Travis Kammeyer, mastered by Vince Burke and features the fittingly striking cover art by Adam Pernell Deal.

As a precursor to the release of

The Valley Path

, USX will be performing several one off shows, including three full acoustic performances in North and South Carolina. Confirmed dates include:

USX Live Actions:
4/16/2011 Earshot Records – Greenville SC [acoustic show]
4/22/2011 Static Age Records – Asheville NC [acoustic show]
4/29/2011 or 4/30/2011 (TBA) Night Light – Chapel Hill, NC [acoustic show]
5/25/2011 Pilot Light – Knoxville, TN w/ Black Skies, Generation of Vipers
5/26/2011 The Get Down – Asheville, NC w/ Black Skies, Generation of Vipers, Caltrop
5/27/2011 King's – Raleigh, NC w/ Black Skies, Caltrop, Royal Thunder


"Nate Hall is a plain-faced general calling his troops to a doomed battle, but then jerking awake occasionally to find that it was all a moonshine hallucination."

— Decibel


"At times this is heavy, heavy psych that possesses the power to blow yer mind to little bits, but it's when the band let their psych out to play with a Laurel Canyon acoustic strum that things really take off. Headphones and a bong are mandatory packing items for this trip."

— Montreal Mirror


"U.S. Christmas provide an album that challenges listeners instead of directly handing them emotions."

— Slug Magazine


"USX weave a psychedelic spell as potent as that by any other mystic. Open your third eye and get that nail ready."

— Sleazegrinder

http://www.myspace.com/uschristmas
https://www.facebook.com/?ref=home#!/USX.APPALACHIA
http://www.neurotrecordings.com

_________________________________________________________

2010's

Common Wealth

was one of my favorite album's from last year, so any project where

Fletcher Tucker

's folk expressive nature boy

Bird By Snow

is tied, I'll pay attention. Gnome Life Records is in the midst of developing a cassette tape series,

Echomancy

, making its own strides in the underground's cassette revivalism.

Some songs from the series are available, which features Bird By Snow,

Mega Bog

and

Yurt

.

Via Terrorbird Media:

Gnome Life Records presents

Echomancy

: featuring Bird By Snow, Mega Bog, and Yurt



LISTEN to new tracks from Bird By Snow, Mega Bog, and Yurt HERE This week Big Sur, CA based Gnome Life Records debuts their new cassette tape & Mp3 series called

Echomancy

, with awe inspiring releases by Bird By Snow, Mega Bog, and Yurt.

Echomancy

means divination through music and the presence of old magic spill out of the tapes and onto the beautifully occult packaging – cardboard tape boxes copper-foil embossed with esoteric symbols. Seeing is believing, take a look...
Now for the tapes...

"SUBTLE BODY" is BIRD BY SNOW 's new EP, and their 7th release overall (4 LP's & 3 EP's). On this EP Fletcher Tucker (Bird By Snow's only constant member) takes a breather from the studio and returns to his lo-fi life. With one mic and a cassette multitrack, Tucker sculpts songscapes simultaneously spaced-out and intimate. "Subtle Body" summons songs from the subtle (spiritually energetic) landscape of California and populates them with vision inducing, poly-melodic guitar lines; and trance inducing, minimalistic rhythms. With tunes and lyrics smuggled back from an astral hike through vibrational hills, this album feels like the soundtrack to a lucid dream, one where you fly on and on over an endless ocean.
Subtle Body
by Bird By Snow

"Tucker's work is now something that resists easy summary -- one can hear everything from understated folk antecedents to fraught metal extremes to shadowed goth touches throughout its seven songs, but at no point is it simply one of those approaches, or any other one, for that matter." - All Music Guide
"NATIVE TONGUE" is the 1st release by YURT a new, far-out project by Fletcher Tucker (also of Bird By Snow). "Native Tongue" consists of 12 improvised (in Tucker's words "channeled") Jew's harp recordings, employing 11 different harps from around the world. The Jew's harp is a mystic instrument that sounds like no other. It appears independently in hundreds of regions and cultures throughout the globe, and features largely into a lot of sacred indigenous music. "Native Tongue" is a further testament to the Jew's harp's ability to siphon music into our world from other dimensions.


Native Tongue
by Yurt

"OKAY HUMAN" is Gnome Life's first release by MEGA BOG, yet another new band on the label. Mega Bog is from Seattle and they play a kind of echoey pop music, this sort cold surf music, this groovy golden dawn music. "Okay Human" will transport you to an effortless groove space, a realm inhabited with glorious word forms, turns-of-phrase both alien and familiar, profound and playful – "My board, it crumbles in a heavy ocean weeze. I met my new best friend while crawling to my knees". It's time to let the spring sunshine in with this ultimate road-trip tape.


Okay Human
by Mega Bog

"The band projects the power of the Northwest and its mysticism. The last time I saw Mega Bog perform, it was in a basement of a house in the U-district and it was one of the most powerful performances I've seen. Also, couple that thought with awesome saxophone solos." - The Stranger

www.gnomeliferecords.com
Sincerely,
Letters From A Tapehead