Dinosaur Jr.: "Watch the Corners"
Not that I'm one to normally promote anything Rolling Stone related, but "Watch The Corners," the first single from
Dinosaur Jr.
's upcoming new album,
I Bet On Sky
, can be found at
rollingstone.com
. There's an interview, too.
Info comes courtesy of Jagjaguwar.
Stream Dinosaur Jr.'s "Watch The Corners"
from I Bet On Sky
Read New J Mascis Interview At Rolling Stone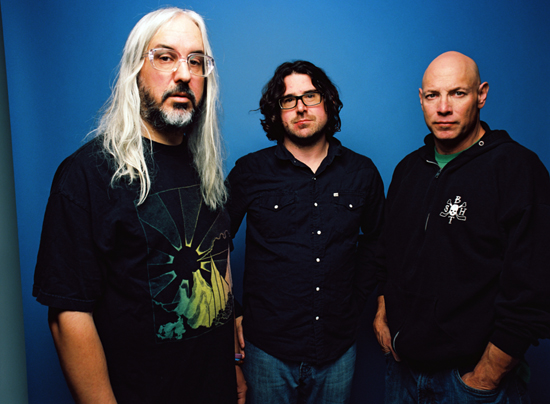 photo by Brantley Gutierre
"Watch The Corners," the first single from Dinosaur Jr.'s upcoming album
I Bet On Sky
, premiered this morning at RollingStone.com along with an interview with J Mascis. The new single starts out with chugging riffs that ease into Mascis' vocals, and properly closes with a shredding solo. Wedged in the middle of the tune is an atypical breakdown with a brief flash of acoustic guitar.
"I always liked that since I was a kid, from like,
Black Sabbath
,"
Mascis says. "
Suddenly they go into acoustic, back into electric – I guess I've always been into that."
Click here to stream "Watch The Corners" at RollingStone.com
I Bet On Sky
, their first since the 2009 album
Farm
, will be released in North America by Jagjaguwar on September 18th, 2012 and in the UK and Europe by PIAS on September 17th.Summer festival appearances and fall North American tour dates with Shearwater are listed below!

Byron Coley on
I Bet On Sky
:

There is nothing quite like a Dinosaur Jr. album. The best ones are always recognizable from the first notes. And even though J tries to trip us up by smearing "Don't Pretend You Didn't Know" with keyboards, it's clear from the moment he starts his vocals that this is the one and only Dinosaur Jr., long reigning kings of Amherst, Massachusetts (and anywhere else they choose to hang their toques).
I Bet on Sky
is the third Dinosaur Jr. album since the original trio – J Mascis, Lou Barlow and Murph – reformed in 2005. And, crazily, it marks the band's 10th studio album since their debut on Homestead Records in 1985. Back in the '80s, if anyone has suggested that these guys would be performing and recording at such a high level 27 years later, they would have been laughed out of the tree fort. The trio's early shows were so full of sonic chaos, such a weird blend of aggression and catatonia that we all assumed they would flame out fast. But the joke was on us.

The trio has taken everything they've learned from the various projects they tackled over the years, and poured it directly into their current mix. J's guitar approaches some of its most unhinged playing here, but there's a sense of instrumental control that matches the sweet murk of his vocals (not that he always remembers to exercise control on stage, but that's another milieu). This is head-bobbing riff-romance at the apex. Lou's basswork shows a lot more melodicism now as well, although his two songs on
I Bet on Sky
retain the jagged rhythmic edge that has so often marked his work. And Murph…well, he still pounds the drums as hard and as strong as a pro wrestler, with deceptively simple structures that manage to interweave themselves perfectly with his bandmates' melodic explosions.


After submerging myself in
I Bet on Sky
, it's clear that the album is a true and worthy addition to the Dinosaur Jr. discography. It hews close enough to rock formalism to please the squares. Yet it is brilliantly imprinted with the trio's magical equation, which is a gift to the rest of us. For a combo that began as anomalous fusion of hardcore punk and pop influences, Dinosaur Jr. have proven themselves to be unlikely masters of the long game. Their new album is a triumph of both form and function. And it augurs well for their future trajectory. If I were prone to wagering, I'd say their best days are yet ahead of them. And yeah. I would bet the sky on it.


Dinosaur Jr.

I Bet On Sky


September 18th, 2012

1. Don't Pretend You Didn't Know
2. Watch The Corners
3. Almost Fare
4. Stick A Toe In
5. Rude
6. I Know It Oh So Well
7. Pierce The Morning Rain
8. What Was That
9. Recognition
10. See It On Your Side

Tour Dates:
07/06/12 Des Moines, IA: 80/35 Music Festival
08/25/12 St. Louis, MO: LouFest 2012
09/24/12 Toronto, ON: Lee's Palace
09/25/12 Toronto, ON: Lee's Palace
09/26/12 Toronto, ON: Lee's Palace
09/27/12 Detroit, MI: St. Andrew's Hall
09/28/12 Cincinnati, OH: MidPoint Music Festival
09/29/12 Champaign, IL: Pygmalion Festival
10/01/12 Nashville, TN: Mercy Lounge*
10/02/12 Atlanta, GA: Variety Playhouse*
10/03/12 New Orleans, LA: Tipitina's*
10/04/12 Austin, TX: Mohawk*
10/05/12 Houston, TX: Fitzgerald's*
10/06/12 Dallas, TX: The Prophet Bar*
10/08/12 Flagstaff, AZ: Orpheum Theater*
10/09/12 Santa Ana, CA: The Observatory*
10/10/12 San Francisco, CA: The Fillmore*
10/11/12 Eugene, OR, WOW Hall*
10/12/12 Seattle, WA: Neptune Theatre*
10/14/12 Salt Lake City, UT: Urban Lounge*
10/15/12 Denver, CO: Bluebird Theater*
10/17/12 Omaha, NE: The Waiting Room*
10/18/12 Minneapolis, MN: Cabooze*
10/19/12 Madison, WI: Majestic Theatre*
10/20/12 Grand Rapids, MI: The Orbit Room*
10/22/12 Bloomington, IN: The Bluebird*
10/23/12 Cleveland, OH: Beachland Ballroom*
10/24/12 Millvale, PA: Mr. Smalls Theatre*
10/25/12 Washington, DC: Black Cat*
10/26/12 Charlottesville, VA: Jefferson Theater*


10/27/12 Philadelphia, PA: Union Transfer

*

* w/Shearwater

Dinosaur Jr. Press Alcove
Dinosaur Jr. at Jagjaguwar
Dinosaur Jr. Official Site
Dinosaur Jr. on Facebook

Sincerely,

Letters From A Tapehead