The Besnard Lakes: "People of the Sticks"
A new single from
The Besnard Lakes
called "People of the Sticks" surfaced today with news of an upcoming new album being released. The album will be called
Until In Excess, Imperceptible UFO
and the single has me very excited to check it out. Their dreamy soundscapes remain intact, their melodies a perfect synthesis of pop-laced hook and indie rock inventiveness.
Give it a listen below.
All info is courtesy of Jagjaguwar.
At Jagjaguwar, we're really not supposed to play favorites. Every band we work with is special, and each of their records occupies an important space within the independent music canon. However, when a relative or a stranger asks me who my absolute favorite band is, I barely miss a beat before I blurt out,
"The Besnard Lakes."


There is no other band on the planet that I'd sprint along 6th street during SXSW, lugging a bulky, 20lb fog machine for. As far as I can tell, no band has performed more beautifully on late night television. During the press cycle for
The Besnard Lakes Are the Roaring Night
, I posted so many personal
"The Besnard Lakes are so awesome!!!"
Facebook statuses that someone sarcastically posted
"So… do you like The Besnard Lakes?"
on my wall. It is such an honor and a privilege to work for this band, and everyone can roll their eyes at what they think is hyperbole, but this love… it's for real.
I am but one of many superfans. Sound Opinions called their last record
"a gorgeous album that you could lose yourself in forever"
and
"an amazing achievement."
Across the pond, NME called it "
nothing short of beautiful."
Under the Radar summed the record up succinctly with
"note after note, moment after moment, song after song that build in anticipation, spectacle and beauty."
Greg Kot did say it best, though, when he wrote
"Right now no one is making music this grand, this big, this moving with so much assurance"
in The Chicago Tribune.


Until In Excess, Imperceptible UFO
is their fourth record and third with Jagjaguwar, out April 2nd. Once again, the Besnards have created a record I want to carry above my head, run across downtown Bloomington, Indiana with, and scream
"LET'S GET LOST IN THESE DREAMY SOUNDSCAPES, YOU GUYS!"
Occupying a micro-genre I like to call "Beautifulcore,"
Imperceptible UFO
is dense, triumphant, and immersive. It is a must. It receives my highest recommendation. My facebook friends might want to brace themselves for the next several months.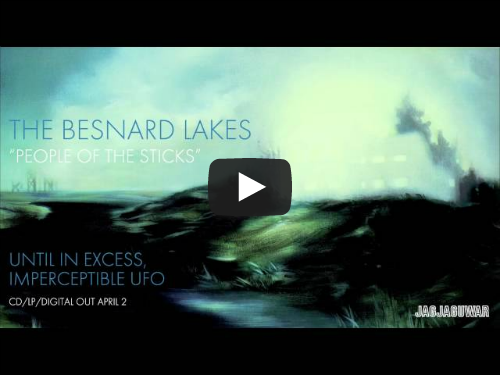 Stream "People Of The Sticks" at NPR Music

NPR Music debuted the first single from the new record at the All Songs Considered Blog. "After hearing the song 'People Of The Sticks,' it's safe to say we're in for another soaringly gorgeous record from the Canadian rock group."

Founding band members Jace Lasek and Olga Goreas produced, recorded and mixed Until In Excess, Imperceptible UFO at the stalwart Breakglass Studios in Montreal. Mastered by the renowned Greg Calbi at Sterling Sound, the record features heavyweight additions by Moonface's Spencer Krug and Mike Bigelow, The Barr Brothers' Sarah Page, the always-enchanting Monica Guenter and the return of Fifth String Liberation Singers' Choir.

Read more about the new record here at Jagjaguwar.

Tracklisting:
1. 46 Satires
2. And Her Eyes Were Painted Gold
3. People Of The Sticks
4. The Specter
5. At Midnight
6. Catalina
7. Colour Yr Lights In
8. Alamogordo
Besnard Lakes at Jagjaguwar
Besnard Lakes on Facebook
Besnard Lakes Official Site
Sincerely,
Letters From A Tapehead